I've been working on this Memories Map Bracelet post since Monday night, and it's now Thursday afternoon. It took a long enough, didn't it? Actually, here is how it goes: I read on Tip Junkie that they want to feature projects involving maps, on Monday night.  I think to myself, I love maps, and remember that I wanted to make a map bracelet. So Monday night I gathered my supplies. And fell asleep. Tuesday, after the peanut and olive are off to school, I set up to shoot it and decided I could also post it to Guidecentral, and that's where I started having problems. The server kept going down. Photos would not upload. So I had a school assembly to go to, and afterwards, I tried again. No dice. Ok, let's just go on. Then it's time to write this post, and work on my Tip Junkie "crafts room", and there's no internet. Hmmm. So I pick up the peanut and olive from school and try again. No internet. No television. No phone service. I call for repairs, which doesn't come till Wednesday morning (BTW, thanks Lynn!), but I have appointments all day. So here I am Thursday afternoon. Forgiven? So let's just do this thing.
You're going to need: glass tiles and settings that you can hook together with jump rings, a chain extension and lobster claw clasp, a dangle bead (or a pre made bracelet), maps (I made copies from an old atlas) a circle paper punch for the size tiles you are using, an emery board, and most of all, Annie Howes Glamour Seal. This stuff is the best for inkjet prints. I love it so much I use it for all my glass tile pendants, and I'm not getting paid to say that. Really, it works and your inks won't bleed. Use photo paper with a matte finish. If you are not using a pre made bracelet, go ahead and make one now, so that you will know how many map tiles you are going to need. I needed five.
Make sure your paper punch will make the size circles for your glass tiles. If you don't have a punch, you can just lay the tiles on the maps and trace around them and then cut them out.
Apply Glamour Seal to the glass tile. This can be tricky. Too much and it makes a mess, too little and it won't seal completely. All glazes are like that though. Just make sure you cover the glass completely and evenly. In the top pic, I need a little more in a couple of spots, but it worked fine.
Just press the map onto the glass evenly. Apply a little pressure. Since these are round tiles, you don't have to worry about the direction of your artwork.
When you flip the tiles over you still have a little bit of time to center them if need be. I like to let them dry with the glass up so the paper doesn't crinkle.
After they are completely dry, file the paper edges with an emery board to eliminate excess paper and any sealer that squeezed out. Drying doesn't take long; usually I can file them in about 20 to 30 minutes.
I have read tutorials where this step is eliminated because the tile is going into a setting. I still do it though. So if you seal the back of the maps, let them dry thoroughly again before the next step.
Note! If you have any suspicions that your settings might discolor, corrode or bleed, you should seal your settings before this step. A spray sealer or even a coat of Glamour seal will work. After they dry, simply apply another coat of Glamour Seal to the backs of the tiles and place them in the settings. I let mine dry overnight.
That's all there is to it. I don't know why I didn't make one of these before.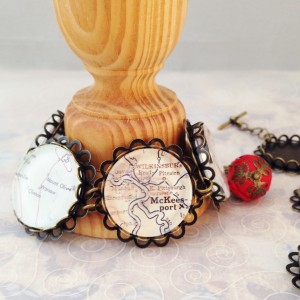 Now make one for yourself!
Pin It