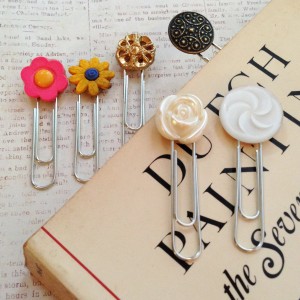 I'm always looking for an inexpensive item I can use as a "thank you" for my customers, and these button bookmarks are about as inexpensive as you can get. It's an easy project, so let's get started.
All you need for this project are shank style buttons, jumbo paper clips, scrap felt, a hot glue gun (preferably low melt), a pair of scissors and a lighter (optional).
Just slide those buttons onto the paper clips, up to the end with only one loop.
Add a dab of hot glue to the back of the button, enough to hold it onto the paperclip.
Before the glue sets up, stick a piece of felt onto the glue. In hindsight, I really could have cut my felt into small circles.
If you're making several button bookmarks, do them all at once to save yourself some time.
Trim the felt around the buttons. I wanted the felt to completely cover the glue but not show on the front of the buttons, so I did one more step.
Working fast, use a lighter to singe the edges of the felt. It draws up pretty fast, and if you linger too long, you run the risk of damaging your button.
Easy, isn't it? The first time I tried to make these, I used E 6000 glue. After they dried, I found that the glue didn't hold very well, so I hunted online and eventually bought a tutorial, which used hot glue. Duh. There are other tutorials out there on making button bookmarks so you might want to check out these sites:
i heart naptime
skip to my lou
my three sons
There's more, but you get the idea. So make some button bookmarks and read a good book!
Pin It