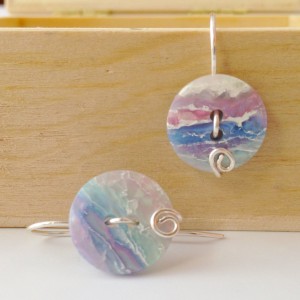 I went to the Post Office today. Which really isn't a big deal, except I've been fighting a cold and it's the first time I've been outside since Sunday. But I had to mail a package (hooray!), so off I went, looking like death warmed over, and didn't even comb my hair. When I got home, I realized I didn't have any earrings on. Which is a big deal, as I call myself a jewelry maker (designer just sounds so formal). So let's make some easy earrings today, why don't we?
This really is a simple project, I promise!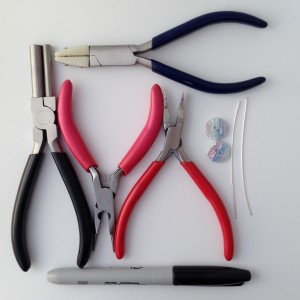 Tools & Supplies
(2) buttons, (2) pieces of 20 gauge wire, cut to 3″ and straightened. Nylon Jaw pliers, flat nose pliers, round nose pliers, sharpie marker and (optional) bail making pliers. Not pictured: rubber hammer and wire cutters.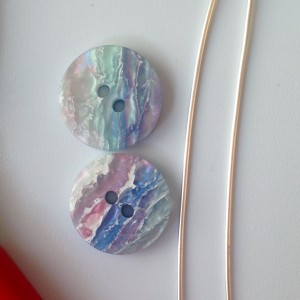 These are 5/8″ nylon buttons, but just about any 2 or 4 hole buttons will work. I like to use silver plated Parawire; it's a little stiffer, so it holds its' shape well.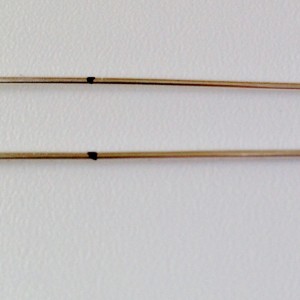 With your Sharpie, mark your wires 1″ from one end.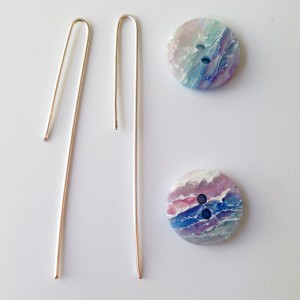 With your round nose pliers, gently bend your wires where you marked them. They sort of look like hair pins now. BTW, you can take off the Sharpie ink with a little rubbing alcohol.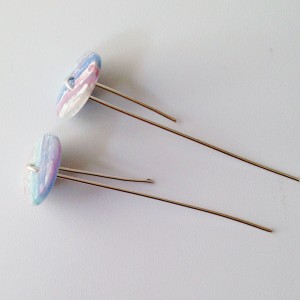 Insert the wires into the button holes.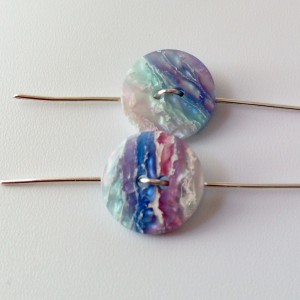 Fold your wires flat. You can use the nylon jaw pliers to help flatten them, just don't squeeze too hard. This is a good time to straighten the wires and trim even, if necessary.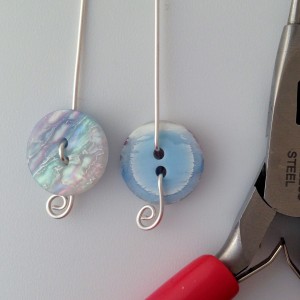 Spiral your short wires with your round nose pliers, all the way to the edge of the button. You want your spirals to go in opposite directions? Just turn one button over before you start to curl!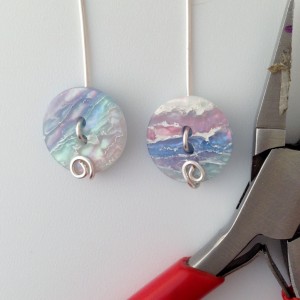 Use your flat nose pliers to bring that spiral to the front of the button, and flatten it down on the button. You might have to adjust your spiral to make it look centered.
Now would be a good time to straighten your long wires again.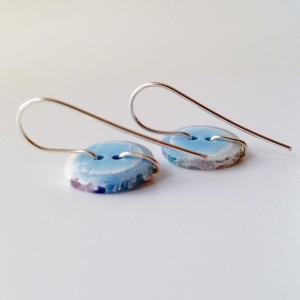 If you have bail making pliers, use the to form the curve of your ear wires. If you don't, no problem! Use your Sharpie as a mandrel, just make sure you bend both the wires in the same place.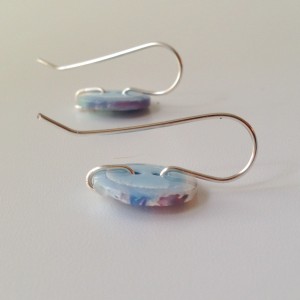 With your flat nose pliers, bend the tips of the ear wires out, just a little bit. I use the width of my pliers end to bend them both the same length.
Even though Parawire is fairly stiff, you still need to hammer the arcs of the ear wires to help them hold their shape. I just let the button hang off of my nylon board and hold down the tip of the ear wire when I hammer. File those ends smooth, and you're done!
See, I told you it was easy! And this is just the basics. You can use longer wire to make a loop for a dangle, make bigger (or smaller) spirals, put a ribbon in the holes, you name it. Now that you know how, go make some. Or, just get them from me!
Now I'm off to make more earrings!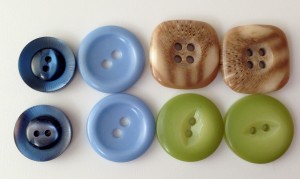 Pin It